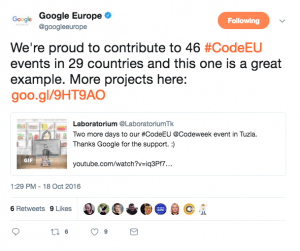 In the period of 20th-23rd of October 2016 in the Peace Flame House Tuzla 7 workshops will be held under the name "Peace <of> Code" organized by Art&Science Association Laboratorium Tuzla.
The project is part of a global event "Code Week" which holds the idea that coding/programming should be demystified, transparent, open and available to people of all ages. We want to help especially youngsters to learn the basics of coding in order for them to use it to carry out their ideas.
The workshops are open for public, but the main focus is on pupils from Primary and High-schools of Tuzla Canton who usually don't have the opportunity to be in touch with new technologies.
Our goal is to gather 70+ students to be actively included in those workshops.
All workshops take 3 hours, and the topics are:
Creative programming (Processing); instructor: Miroslav Remetić
Arduino; instructor: Muamer Halilović
Web development; instructor: Zlatko Alomerović
Mobile App Development; instructor: Leila Hadžić
Makeblock; instructors: Dejan Bojić i Leila Hadžić
Lego Mindstorms EV3; instructors: Dejan Bojić i Leila Hadžić
Tynker; instructor: Zlatko Alomerović
Opening of the event is planned on the 20th of October at 2 p.m. with a short presentation and guests which will talk about the importance and practical use of coding.
The project is supported by the company Google, friends of the project are:
Association of Citizens Peace Flame House Tuzla, Center for Business education (CPE) Tuzla.